To keep the hygienic condition of the kitchen in your home, rented flat or restaurant use our professional cleaning services. The stringent legislation requires keeping perfect hygiene and cleanliness in commercial kitchens.
We can help you ensure the safe and healthy state of your cooking areas. Whether this is the kitchen in your home, rented estate or restaurant, our staff can make it perfectly sanitised and hygienic. Our kitchen cleaning services can be used by the residents living in Highgate, N6 and nearby.
Our cleaners can reach and scrub all in-accessible areas to remove the stains, crumbs and grime.
Peerless Kitchen Cleaning Highgate
Regular cleaning of your kitchen is necessary to be performed to ensure its spick-and-span condition. Being used to store and prepare food, washing dishes, the kitchen surfaces need effective sanitising to be in healthful state. We can offer you the following:
Sweeping and mopping of the floors
Cleaning inside and out cabinets, door knobs, shelves, drawers, tables and furniture
De-greasing ovens, microwaves, control knobs, refrigerators, freezers and white goods
Cleaning vents inside and out
Washing counters and sink areas
"The kitchen area in our restaurant is in perfectly hygienic condition thanks to the professional cleaning which your staff carry out. They help our employees sanitise the cooking and cooling appliances, counters, shelves and washing areas. We are very delighted with the final results of their work." – Alex
Our staff are supplied with the latest and most efficient detergents and dip tanks to soak and scrub stained and soiled components of kitchen appliances. They apply hand cleaning of the parts after soaking them, rinsing and reassembling them.
Professional Kitchen Cleaning N6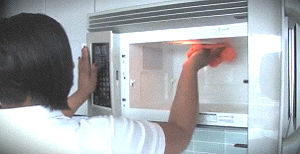 Use our professional kitchen cleaning services which we offer in the Highgate territory to property owners. We guarantee you that your electric appliances will be perfectly sanitised inside and out, heat up faster and get rid of the splatters.
Our staff clean burner grates, fryers, turn tables of microwaves, control knobs and inaccessible kitchen areas. Using effective detergents and suitable tools they can make your kitchen rid of the stains, burnt food and crumbs.
Kitchens need to be cleaned regularly to be functional and kept in healthy condition. If you use our cleaning services regularly your restaurant's cooking areas will by in pristine state, your staff will be more productive and you will reduce your energy bills. We offer peerless kitchen cleaning in the N6 region to owners of domestic and commercial estates.